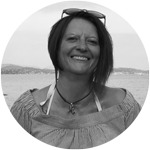 Martina Hammacher
Owner of Meliti Travel
German-Swiss double citizen
born in Essen / Germany
over 10 years tourism branche and hotel management in Greece
Occupational therapist, job coach and case manager
PADI MSDT Instructor (Master Scuba Diver Trainer) in teaching state
SSI Advanced Open Water Instructor
PADI EFR Instructor – Emergency First Responce and Secondary Care Instructor
Languages: German, Swiss German, Greek and English fluent spoken and written
Hobbies: Scuba diving, freediving, traveling, stand-up-paddleing, underwater-photography, cooking

Enjoy with Meliti Travel unforgettable and beautiful experiences in Greece.
Why should you book your journey with Meliti Travel?
Meliti Travel is a small but fine company. Our target is to accompanied our clients personally and to responsive indiviual to their wishes. Best service and excellent quality of our services and partners is our highest order. All our partners and services has been chosen by ourselfs and we stay permanently in contact with them. And… Meliti Travel lives Greece!

You will come as strangers and will leave us as friends. Enjoy with Meliti Travel the real and authentic Greek life also offside of the typical tourist path and enjoy the Greek culture and kitchen.
We are experienced for years in the tourism and hotel branche in Greece, customer care and in diving business.
Find in our website a variety of excursions and tour packages. Please do not hesitate to contact us and we will arrange your personal and individual trip for you to join a unforgetable and lovley journey and diving experiences in Greece.
Meaning of Meliti
In the Greek mythology the name of Meliti was known as the nymph Meliti of Corfu island.
Together with the hero Iraklis (Hercules) they fathered the son Yllos. Yllos gave the city Ylli and the Yllaïko port on Corfu island its name.
Nowadays you find the name Meliti as a female name
Meliti also is a village in the community Florina in North Greece / West Makedonia.